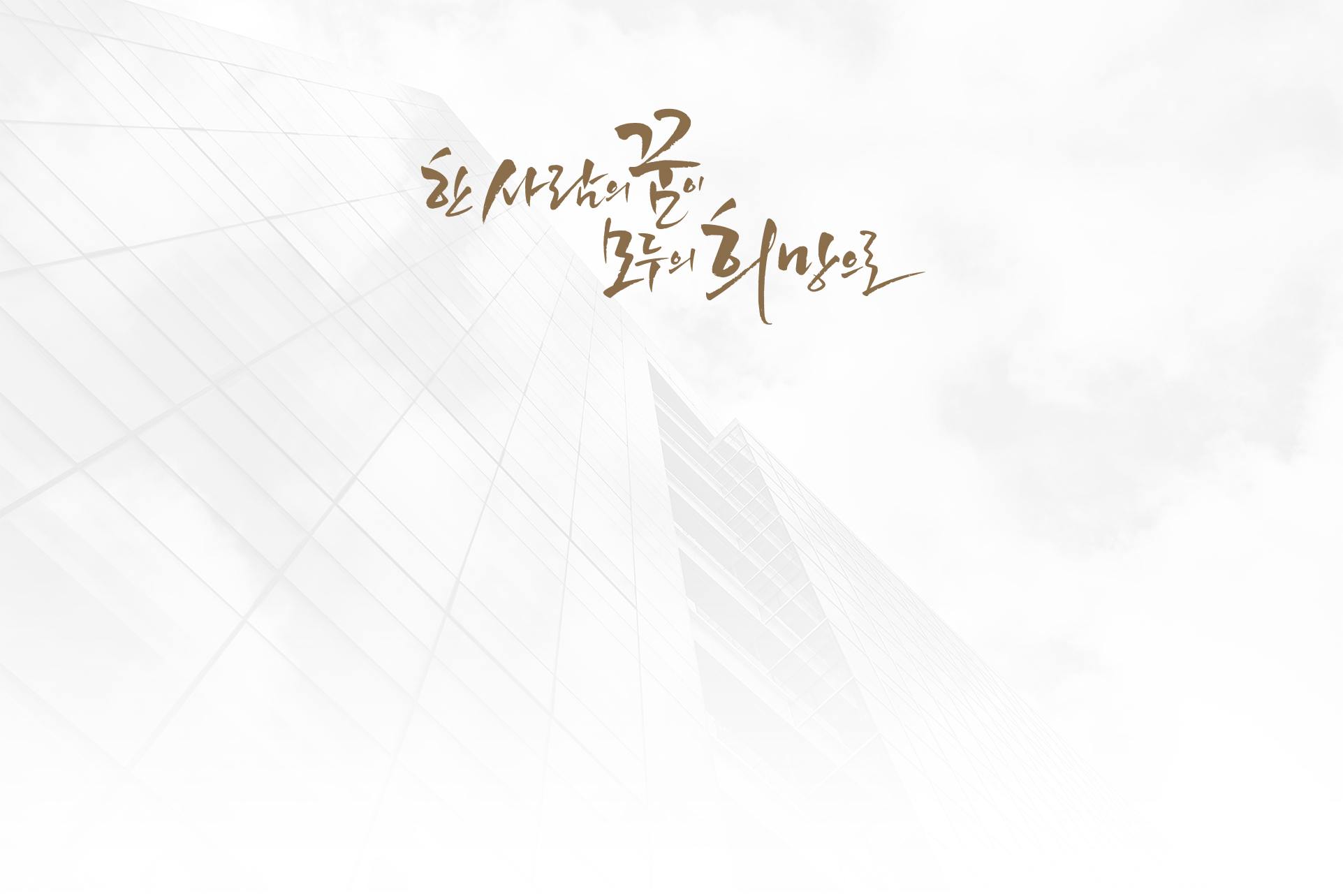 A developer that turns dreams into reality.
More than two decades ago, MDM started out as a modest but ambitious developer with a capital of KRW 50 million in a studio office in Seocho-dong, Seoul. As a start-up, MDM used its outstanding skills and ideas to grow into the first comprehensive real estate and finance group in Korea over the past 20 or so years. In that sense, MDM's path to success was driven by its relentless desire to innovate and take on new challenges in the real estate industry.
The patience to wait for the perfect moment. For ten years, MDM remained patient and focused on working as a sales and marketing agency - rather than diving directly into real estate development projects - to build up enough seed money. Once it had sufficient capital, MDM embarked on its "Haeundae Daewoo World Mark Centum" (Busan, Korea) in 2007, and took its first steps as a bona fide developer.
No success comes without setbacks. MDM was created in the aftermath of the IMF financial crisis in 1998, and it was able to push through adversity thanks to its founders, who believed in the company's potential. Another crisis, however, hit MDM in 2008 when the global economy took a nosedive. Despite the bleak economic outlook, MDM overcame the global financial crisis by investing in the real estate, by creating new markets with unique ideas, and by looking at its long-term future rather than immediate problems, just as it did during its early years when it was dealing with the effects of the IMF crisis.
MDM leverages its creativity to lead the market one step ahead of its competitors.
Countless achievements and accolades. In 2011, while global markets were still frigid from the immediate aftermath of the latest global financial crisis, MDM led its "Pangyo Prugio World Mark" project to a resounding success thanks to an innovative "rent-then-sales" idea. In 2012, it also executed its "Gwanggyo Prugio World Mark" development project successfully with another novel system called the "real estate return system" to purchase the real estate required for the project.
When developing the "Gwanggyo The Sharp Lake Park" in 2013, MDM made headlines by introducing a "Club Lounge" that provides hotel-style dining services. Then, in 2015, MDM debuted another new concept called "Mall-Sphere" in the Samsong District at Goyang-si. Overall, MDM has always been on the vanguard of the real estate market and has created new paradigms for the industry.
MDM's story is still being written. MDM is laying the foundation for its future, refusing to stay content with its past success. It continues to challenge itself and push the envelope for a bigger leap forward. In 2019, MDM is designing a new future for Seoul, the capital of Korea. Most notably, for the project, it purchased the site of the former Defense Intelligence Command of Korea in Seocho-dong, Seoul, and the old Hangang Tourist Hotel site on the banks of Hangang River.
Sailing past its 20th anniversary for an even bigger leap forward.
It is time to take the leap. Let us look back on the path MDM has taken so far to help prepare for a bigger leap forward. History will become a launching pad for MDM into its future.
Growing with the community. Since its inception, MDM has been a champion of mutually beneficial business practices and corporate social responsibility. In 2001, after just three years in business, MDM set aside half of its sales revenue to establish the "Moon-Joo Scholarship Foundation." To date, the Foundation has awarded scholarships to approximately 3,000 recipients, proving MDM's commitment towards sharing its success with others in the community. Moving forward, the MDM Group will continue to fulfill its social responsibilities as a conscientious corporation.
MDM promises to mature into a bigger company, a warmer company backed by more than two decades of history in growing together with others. Thank you.
President of MDM Group